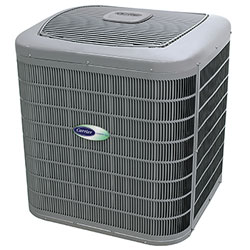 When the Wheeling summer heat and humidity drops on your house like a wet blanket, do you sit in front of a fan, desperate for relief? There's a better way to enjoy your summer. Call Discount Heating & Cooling for an affordable, energy efficient cooling system that will reward you with perfect indoor temperature in every room of your house. Bedrooms are cool and comfortable for peaceful sleep. Humidity reduction eliminates stickiness, lessens fatigue and boosts energy. You'll feel better, appreciate your home, and get rid of the noise, dust and aggravation of portable fans.
If you're thinking back to those big, ugly, energy-eating monsters from your childhood, think again. The days of 10 or less SEER, over-cooling to fight humidity, and shouting over the wheezing and rattle of the air conditioner are over. New residential air conditioning regulations went into effect in January 2006, stipulating a minimum of 13 or higher SEER. Today's cooling equipment is not only more energy efficient, but quieter and sleek-looking, with sport digital displays, timers, remote controls and smart fans that automatically adjust speeds to maintain desired temperatures. They require far less repairs, last longer, improve indoor air quality, and have replaced Freon with a refrigerant that does not contribute to ozone depletion and allows for greater system efficiency.
Healthy Home Air Conditioning Installation in Palatine, IL | AC System Replacement Arlington Heights, IL | Central Air Installation Northbrook, IL
Conditioning the air in your home can improve indoor air quality and offer tremendous health benefits. Dust mites thrive in warm humid environments, and while they cannot be totally eliminated, the number can be greatly reduced. By keeping the home cool, people who suffer from indoor allergens will feel better and breathe easier. With central air conditioning, doors and windows are kept closed, keeping out insects, noise pollution and pollen. Closed windows also eliminate open-window security risks. When you look for ENERGY STAR rated models, you'll enjoy more efficient cooling, saving up to 30% on energy bills every year.
Properly sizing your air conditioner for your size and style of home is extremely important. Too small of a unit will run constantly and fail to meet your temperature requirements. Too large of a unit will power on an off, never reaching ideal efficiency levels and placed added strain on components. At Discount Heating & Cooling, our NATE-certified technicians use a heat gain/heat loss calculation to determine the number of BTUs needed to perfectly control home temperature. This is done by taking measurements of rooms, doors and windows, factoring in ceiling height, quality of insulation, if you have a basement, crawlspace or slab floor, as well as weather conditions, hot and cold spots and humidity concerns.
Carrier Factory Authorized A/C Installation
As a Carrier Factory Authorized Dealer, Discount Heating & Cooling sales and service technicians continue extensive training in the technical aspects A/C installation, maintenance and repair, as well as receiving updates to efficiently recognize and recommend solutions that meet your specific needs. We are licensed, fully insured and certified by the EPA to handle refrigerant.
Willis Carrier invented the first modern air conditioner way back in 1902. Since then, Carrier has continued to lead the field in every aspect of home comfort. With sound as low as 65 decibels and up to 21 SEER, the Carrier line of cooling equipment offers a refreshing, quiet and durable answer to every sized installation space, home and budget. The Infinity Series is ENERGY STAR qualified in all sizes. Two-stage compressor allows the system to function mainly in low-stage, where you enjoy the highest efficiency and greatest dehumidification, making a real comfort difference.
Contact Discount Heating & Cooling to replace your air conditioner!
Discount Heating & Cooling is a Comfort24-7 Provider, which means the systems we install, maintain and service are covered by comprehensive guarantees to assure your complete satisfaction or your money back. We stand behind our work, continuing a dedication to meeting and exceeding expectations that began way back in 1991. Call us at 847-777-3243 for unmatched solutions to home cooling throughout Wheeling, Buffalo Grove, Arlington Heights, Deerfield, Prospect Heights, Lincolnshire, Palatine & Mt Prospect, IL. Demand superior quality. Expect excellent service.
Air Conditioner Installation

∴

AC Replacement

∴

Central Air Installation

∴

A/C Installation

∴

AC System Replacement ∴ Arlington Heights, IL ∴ Mt Prospect, IL ∴ Wheeling, IL