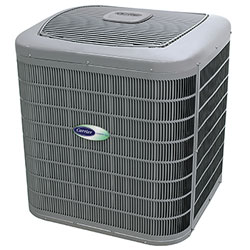 Out of sight, out of mind is not a good motto when it comes you our air conditioner. All manner of nasty things can be hidden inside, contaminating your indoor air quality, reducing system efficiency and longevity, and quickly leading to aggravating repairs. The best protection is preventative A/C maintenance. When you call the experts at Discount Heating & Cooling, we take on the work and worry so all you need to do is relax and enjoy the refreshing cool of a smooth running cooling system.
Possible consequences of an insufficiently maintained cooling system can be harmful to your immediate and long-term health. The increased temperature and moisture, generated by air conditioning, promotes the natural growth of organisms, while speeding up the natural decomposition process of animal and plant matter that can be hidden in the inner workings of a split system. Mold, mildew, colonies of insects, rotting animals and other debris can accumulate, leading to restricted airflow, over-taxed motors, higher operational costs and increased allergens.
A/C Service Improves Your Indoor Air Quality
When you activate your air conditioner, after a long fall and winter of sitting idle, bacteria can be sprayed directly into your home and inhaled by the occupants. These airborne pollutants can lead to a variety of infections and health problems such as fatigue, coughing, sore throat, congestion, asthma attacks and respiratory tract infections. The cleanliness and effectiveness of your air conditioner and the health of your family are closely connected.
Call Discount Heating & Cooling for a convenient, cost-effective and thorough analysis of your system. Our technicians are licensed, insured, and NATE-certified, having demonstrated extensive knowledge of the products, technology and skills specifically related to HVAC through strict, industry-recognized exams. Discount Heating & Cooling is distinguished as a Carrier Factory Authorized Dealer, which guarantees the highest level of training, education, product knowledge, and business practices. As a Carrier Factory Authorized Dealer, we strive to use Factory Authorized Parts whenever possible, promoting optimum efficiency, sound levels and system lifespan.

Central Air Service Northbrook, IL | A/C Service Glenview, IL | Central Air Conditioning Service Mt Prospect, IL
Our qualified technicians are EPA certified to handle refrigerant, and will check for proper amounts and test for possible leaks. We'll measure airflow through the evaporator coil, as organic particles like pollen and mold can collect on the fins, slowing airflow to the point of condensate freezing. We will inspect electric terminals, cleaning and tightening connections, oil motors, check belts for tightness and wear, and make sure the condensate drain is free from clogs that can lead to excess moisture. Through meticulous cleaning, tuning and trouble-shooting, the Discount Heating & Cooling cooling specialists can restore your cooling equipment to peak condition.
Maintenance extends life, wards of repairs, increases efficiency & comfort, while achieving superior air quality and humidity control. Neglect leads to a steady decline in performance and efficiency, costing far more than a practical and simple service plan. At Discount Heating & Cooling, we make the solution easy, painless and affordable. Call 847-777-3243 and speak to a live and helpful member of our team to schedule an annual tune-up. The best time is in the spring, before you depend on your air conditioner to spare you from the Wheeling heat. We'll work within your time constraints, keep your home clean, the job site neat and provide total peace of mind.
Central Air Conditioning Service

∴

Central Air Service

∴

AC Maintenance ∴ Palatine, IL ∴ Mt Prospect, IL ∴ Wheeling, IL