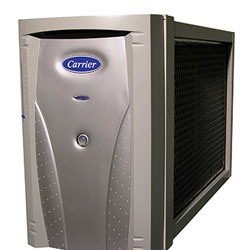 You might take the air your breathe for granted, but there are sources for indoor air pollutants in every room of your house.  Even a well-scrubbed home plays host to billions of unwanted contaminants.  Dust mites, mold, mildew, pollen, pet dander, and skin flakes … to name a few.  Greatly improving indoor air quality is relatively simple and inexpensive.  Through state-of-the-art technology, the experts from Discount Heating & Cooling will help you take control of the air your breathe, ensuring a cleaner, healthier and safer environment for you and your family.
When you consider products to improve the air circulating in your home, Carrier should top your list.  Unforgiving when it comes to pathogens, Carrier air quality solutions combine innovative technology, sophisticated design and unparalleled results.  As a Carrier Factory Authorized Dealer, Discount Heating & Cooling has the product knowledge and extensive training to recommend and install the right product to provide a healthy home at an affordable price.
UV-C light is a natural disinfectant that penetrates the membranes of microorganisms, reacting with and disrupting their DNA, and rendering them nontoxic.  Natural UV light from the sun controls outdoor airborne microorganisms.  Carrier UV lamps do the same thing inside your home, destroying bacteria, viruses and mold growth on HVAC interior surfaces, creating a cleaner running, more efficient system.  Installed inside your HVAC duct system, germicidal UV lights silently reduce concentrations of airborne bioaerosols by 50% within 45 minutes.
Humidity Control
Humidity levels of furnace heated air can drop to 10% or less.  Ideal humidity includes anything between 30% and 50%.  Humidifiers introduce moisture into your home, increasing comfort, decreasing heat bills, and soothing dried out, itchy cracked skin.  Humidified air serves as a preventative measure, limiting viruses and bacteria that thrive in overly dry air.  A Carrier humidifier, installed by Discount Heating & Cooling, will ease symptoms of allergies, nosebleeds, asthma, chapped lips and static electricity in your home.  You'll feel warmer and more comfortable at lower temperatures, saving money on utility bills.
Now Offering Performance™ Series Humidifiers To Fit Every Home & Situation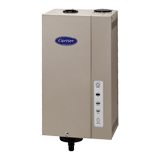 Performance™ Series Steam Humidifiers – Steam output humidifiers are often the best choice for larger homes or when you want more precise control over humidity. Our humidifier flows water between electrodes to create steam which is then dispersed into the ductwork. This design uses an easy to replace canister system and can be managed by your system's Infinity® control or Edge® thermostat.
Performance™ Series Fan Powered Humidifiers – Fan-powered humidifiers are engineered to quietly blow moisture directly into your ductwork—and spread comforting humidity throughout your home when the seasons have turned dry.
Performance™ Series Bypass Humidifiers – These whole-house humidifiers simply use the blower motor of your furnace to drive moisture vapor into your home's ductwork. Easy to maintain, our bypass humidifiers require only an annual water panel change.
Air Cleaners
Cutting-edge purifier systems trap and kill bacteria, viruses, mold spores, allergens and other pollutants in conditioned air and eliminate them from the air your family breathes. By cleansing the air of pollutants, allergens and pathogens, and filtering out odors, true air purification goes far beyond air filtration, requiring specialized and meticulously engineered technology.  Award-winning Carrier air purifiers clean indoor air up to eight times an hour and remove pollutants that are up to 18,000 times smaller than the head of a pin.
In today's airtight, energy-efficient homes, ventilation is critical to maintaining healthy air.  Allergens from pets, odors & humidity from the kitchen and bathroom, and volatile organic compounds generated by electronics, carpeting & furniture all gets circulated and re-circulated in the same polluted and trapped air.  Sophisticated Carrier ventilators quietly replace stale indoor air from your home with fresh outside air, while keeping valuable energy from escaping.  By using outside air to precondition incoming air, system efficiency is maximized.  Innovative, treated paper cores enable these ventilators to reduce humidity from the air before it enters your home, eliminating that summer, sticky feeling.
Air Cleaners & Purifiers
Infinity® Series Air Purifier – Our award-winning Infinity air purifier doesn't just filter air: Its Captures and Kills™ technology is unforgiving when it comes to airborne pathogens such as bacteria, viruses and mold. Grizzly? Yes—if you're a mold spore. This whole-house air cleaner also re-purifies circulated indoor air as many as 8 times an hour. Those poor pathogens don't stand a chance.
Performance™ Series Air Purifier – If clean air matters to you, this system may be just what you're looking for. It's the little brother to the Infinity® air purifier designed to be more budget conscious and to fit narrower installation spaces. It also uses Captures & Kills™ technology to continuously filter out pollutants, allergens and pathogens in your home, to leave you with cleaner, healthier air.
Comfort™ Series EX Flex™ Cabinet Air Filter – Designed to keep air flowing cleanly and efficiently through your home, this cabinet air filtration product is a convenient and affordable way to improve indoor air quality and system performance. Even replacing the filter is a breeze.
Contact Discount Heating & Cooling Today!
Call Discount Heating & Cooling for your indoor air quality concerns, and we'll be happy to discuss the many options and benefits of improving your indoor climate.  Our air quality specialists are also available to inspect and clean your dryer, removing dangerous lint build up in your venting, to ensure safe operation.  A full load of wet clothes holds about a half gallon of water.  As water is removed during the drying process, lint is generated.  As lint builds up in crevices deep down inside the lint filter trap, and throughout the dryer vent hose, your dryer becomes the number one fire hazard in your home.
For a safe and healthy home, Discount Heating & Cooling has the most affordable, sophisticated, and convenient solutions available.  Contact us at 847-777-3243 and we'll protect your family's well being.
Indoor Air Quality Service

∴

Air Quality System Installation ∴ Northbrook, IL ∴ Glenview, IL ∴ Des Plaines, IL