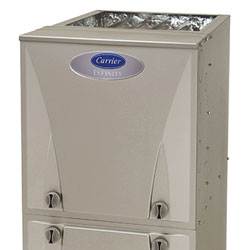 You probably do a lot of things around the house to prepare for winter.  Maybe you get those snow tires put on your car.  How about preventative maintenance for your furnace?  Your heating equipment is probably the most expensive system in your home.  A solid half of your energy costs go directly to heating and cooling.  It only makes sense to protect your investment.  With some simple and convenient attention from Discount Heating & Cooling, your furnace will continue to provide the comfort you depend on and expect.  We'll even boost energy efficiency and increase longevity.
To safeguard indoor air quality, it is essential to maintain your heating unit and its venting mechanism.  Proper selection and maintenance of air filters can greatly reduce the level of indoor dust and particulates, including allergens and airborne mold.  The filter is the main defense against dust contaminating the interior.  Once dust enters the furnace cabinet, it accumulates on bearings and pistons and leads to motor burnout.  The NATE-certified technicians from name can recommend the ideal filters for your particular heating equipment.  During regular maintenance we will replace filters and perform a full-system cleaning.
Protect your furnace with preventative maintenance
Your heat exchanger is something you want to protect.  To put it simply, the heat exchanger keeps bad air away from the good air we breathe, protecting you from carbon dioxide, carbon monoxide, soot and other unpleasant byproducts of the combustion process.  When dust clogs components, airflow is restricted, leading to much longer run times.  Your heat exchanger can overheat and crack.  Moisture from the air in garages, basements and crawl spaces corrode heat exchangers.  Best-case scenario, you'll need to replace the heat exchanger.  You may even need to replace the entire heating system.  It's much simpler to set up a maintenance plan with Discount Heating & Cooling and let us keep everything clean and running properly.  Through regular tune-ups, our certified technicians will troubleshoot and eliminate the majority of potential repairs.
Increase the life of your heating system with annual service
Regular service limits costs over the life of a system.  Fewer repairs, higher efficiency, longer lifespan, all add up to a heating system that costs less to operate.  You stay comfortable instead of suffering, waiting for replacement parts and budgeting for sudden repairs.  With a maintenance plan from Discount Heating & Cooling, we'll prepare your furnace for winter, making sure it's in peak condition and able to handle constant use.  Without comprehensive cleaning, tuning and tightening prior to regular usage, your furnace cannot come close to achieving manufacturer's expectations for energy efficiency, noise levels and durability.
Over summer, your furnace sits idle and dirt settles unchecked on such things as the motor, air handler or heat exchanger.  Small animals may even find their way inside, leaving behind debris, feces or even decomposing within your unit.  A tune-up from Discount Heating & Cooling includes a full-scale inspection of the system to uncover problem areas and replace components that show a concerning amount of wear and tear.  We do what it takes to keep your furnace operating safely and more efficiently.  For cost-effective, quality service, call Discount Heating & Cooling at 847-777-3243.
Heating Service • Furnace Service | Wheeling, Buffalo Grove, Arlington Heights, Deerfield, Prospect Heights, Lincolnshire, Palatine & Mt Prospect, IL
Furnace Service

∴

Heating System Maintenance

∴

Heating Service

∴

Furnace Maintenance ∴ Wheeling, IL ∴ Arlington Heights, IL ∴ Des Plaines, IL